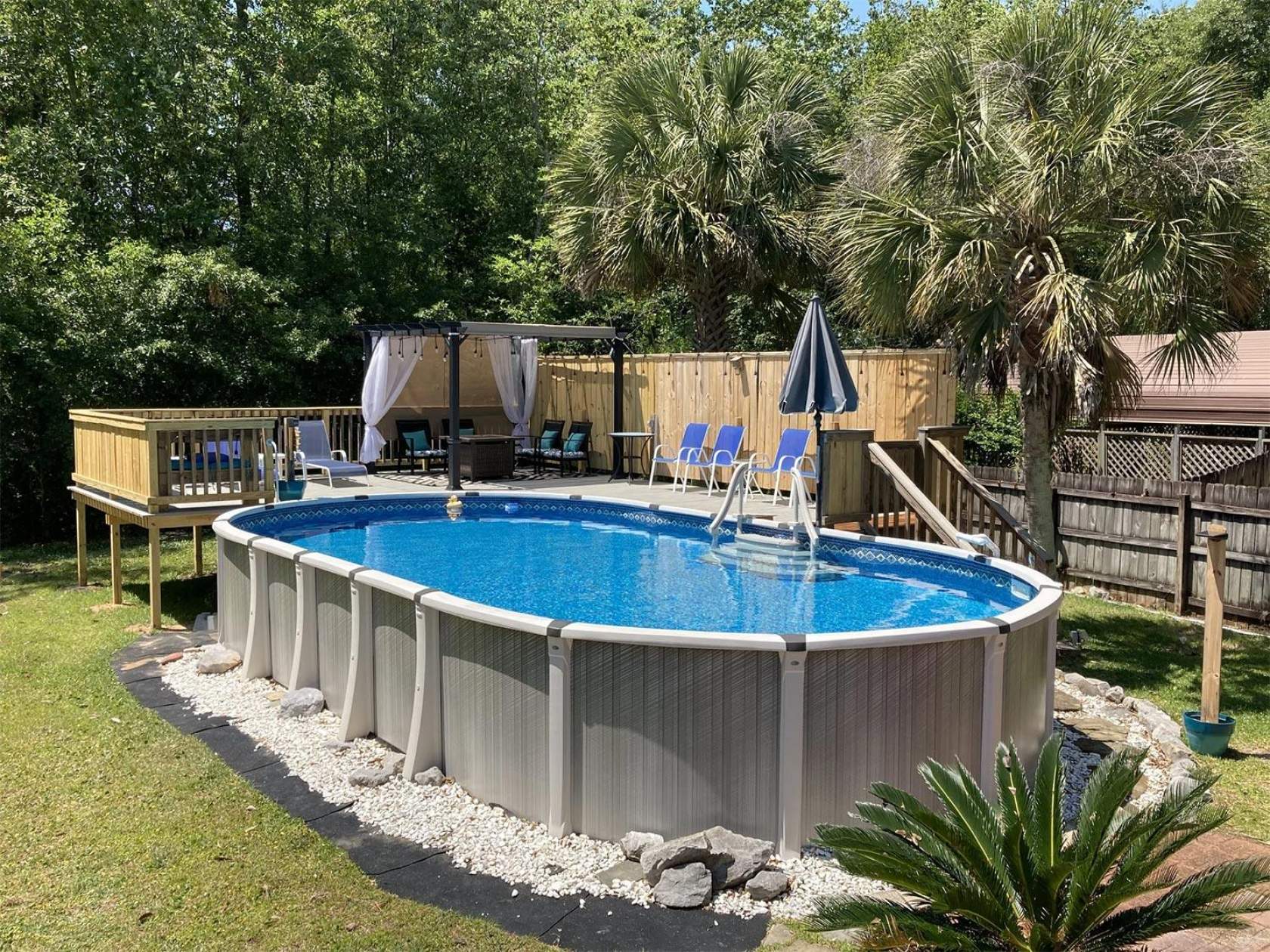 Best Above Ground Pool Designs For 2022
Getting your own swimming pool is a very exciting prospect, but not every site is suited to an in-ground design. Above ground pools are becoming increasingly popular, and there are plenty of reasons why. In-ground swimming pools simply don't work in a number of situations. Consider the following:
The area you want your pool in has too big of a slope.

Your pool would ideally be on an even angle with your deck, patio, or outdoor entertaining space.

Raising your pool out of the ground would avoid engineering problems. 

Excavation and soil removal would require too much machinery or additional cost.

You have an unorthodox location for your pool in mind, like a rooftop, for example.
These are all situations where an above ground pool will make much more sense for you. We're going to go through a few different options for an above ground swimming pool, going from the most affordable pool to the least. By the end of the article, you should have a slightly better understanding of the best above ground pools in Australia. 
Vinyl Liner Above Ground Pools
An above ground vinyl liner pool is likely the simplest place to start if you're looking for a pool that will suit the whole family, but you want it on a budget. This type of affordable pool can usually be sourced for less the $10,000, and that's including installation. They tend to be built with a handy kit frame made of steel and walls which fit a made-to-size vinyl liner. Keep in mind that they're not the most aesthetically pleasing above ground swimming pools, and they are prone to damage from sharp objects. The liner also requires regular maintenance and has a tendency to fade if the chemical composition of the water isn't managed effectively.
Pre-Made Portable Above Ground Pools
As demand for cheap, aesthetically pleasing above ground pools has increased, so has the level of innovation on the market. You can find above ground pools made from shipping containers, plunge pools made from concrete, and fibreglass pools that stand on their own. These are still inexpensive options, relatively speaking. A freestanding fibreglass pool can be acquired for under $17,000, for example. These types of pools are likely to be more of a permanent fixture than a vinyl liner above ground pool, though. That said, they're great if you're trying to avoid earthworks, want a quick installation, and don't want to muck around finding all the bits and pieces that more intensive pools require - a pre-made portable above ground pool tends to come with a pump, filter, and lights included. However, you are confined to picking a smaller sized pool, and there are no options on the market yet that are capable of self-cleaning. 
Custom Engineered Concrete Above Ground Pools
This is the expensive end of the market. If the area that you want your pool in has a lot of challenging terrains, chances are you're going to need something that is designed specifically with those challenges in mind. A savvy engineer with a lot of time and concrete on their hands will be capable of getting this done. However, it's going to take a lot of time and money. By the end of the lengthy construction process, you'll be in possession of a jaw-dropping above ground pool that will be the envy of all of your friends and family. It will perfectly suit your environment. It will take significantly longer than the above options, though, and concrete is much harder to look after than fibreglass or vinyl. 
So Which Is The Best Above Ground Pool?
The best above ground pool is the one that meets your needs. If you have a limited budget and a convenient space, a vinyl liner pool is probably going to suit you most. If you have a slightly higher budget, less space, and more of an interest in style, a pre-made portable above ground swimming pool might suit you better. If you have a large budget, plenty of time on your hands and a specific vision in mind for the end result, a custom engineered concrete above ground pool is likely to be something you should consider.
Which Above Ground Pool Shape Is Best?
When it comes to deciding on the best above ground pool shape, there really is no one-size-fits-all answer. It all depends on your needs, preferences and available space. The most common shapes for above-ground pools are round and oval, although you may also be able to find rectangular or even octagonal options too. 
Round pools take up less space than oval ones, but offer a limited amount of swimming area. On the other hand, ovals offer more swimming area while still being suitable for smaller spaces compared to rectangles or octagons – but they sacrifice the more natural aesthetic that follows round pools' curves. 
Rectangular pools maximise surface area while offering a different visual perspective when viewed from different angles. This allows them to be especially attractive in narrow backyards, as you can still get a large pool in such a small space. Octagonal pools provide an interesting blend of both shape types by combining curves with straight edges. 
Ultimately, there's no perfect option – it's really down to personal preference! 
How Deep Does an Above-Ground Pool Need to Be?
The best depth of an above-ground pool depends on a few factors, such as the size and shape of your outdoor space. Generally speaking, it's safe to build pools with a minimum depth of 0.6 metres up to a maximum depth of 2.4 metres. This range is sufficient to accommodate both adults and children who want to enjoy swimming in an above-ground pool. However, if you have taller people or more experienced swimmers in your home, you may need a pool on the deeper end of the scale.
In terms of safety, having at least one metre between the top rim and the water line is typically recommended so that kids don't accidentally fall in while playing around the pool. It's also wise to make sure that shallow steps are available near entry points for easy access and added security against accidental falls into deeper sections. 
Overall, when setting up an above-ground swimming pool, it's important to take into consideration how deep you'd like it to be before purchasing any components. This is because some parts are only available for specific depths—and all of this should be done with safety first in mind! Once all installation steps have been completed, then you can easily adjust yourself accordingly and begin enjoying many happy hours in the sun.
Where Can I Learn More About Above Ground Pools?
Consult the Pool & Spa Life guide to above ground pool buying here. Any above ground pool is an investment that likely merits some forethought. Consult a professional to help you with this decision. Consult the Swimming Pool and Spa Association of Australia and New Zealand.  Contact details for your local member are on our 'Find a provider' tab.