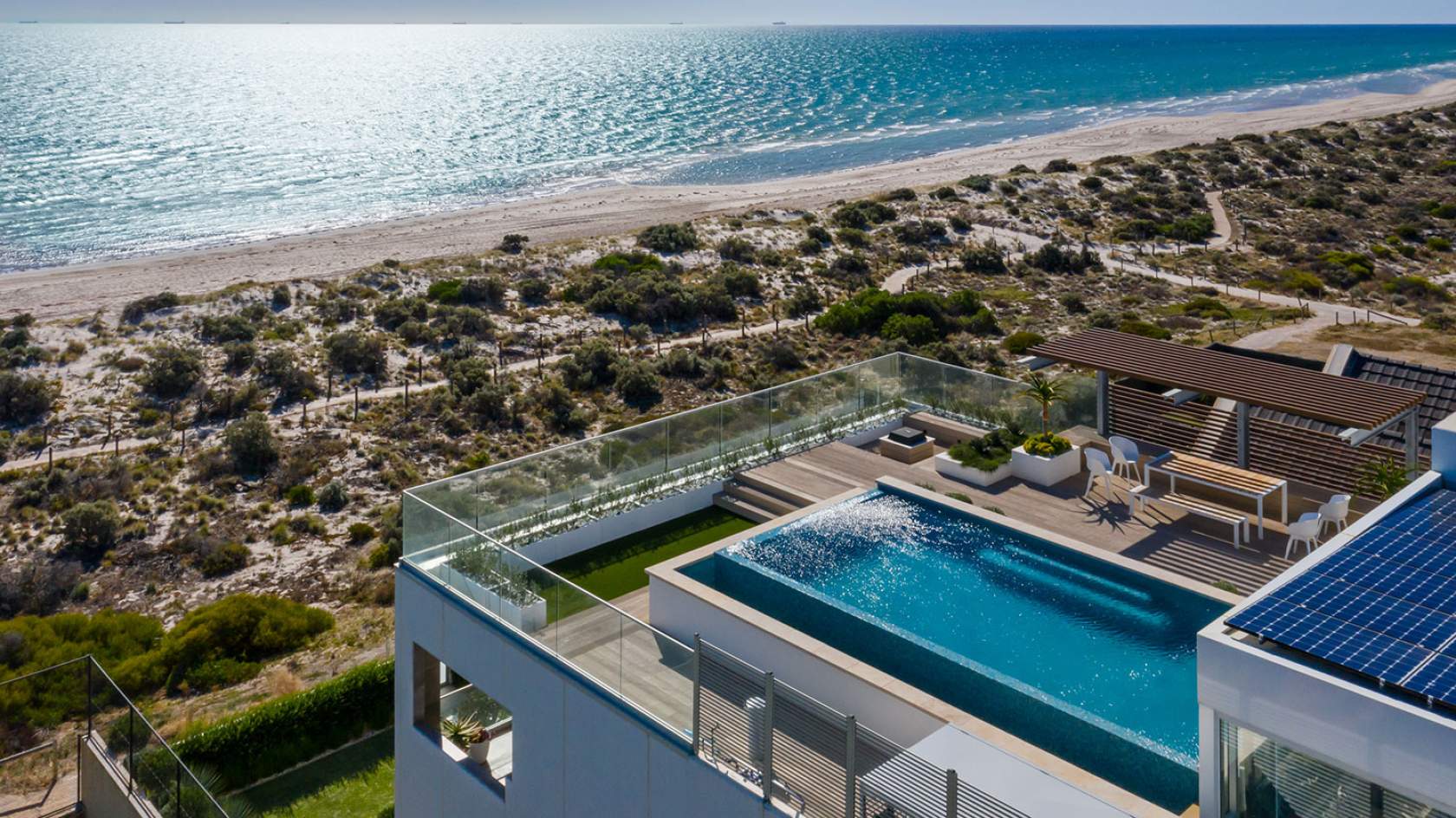 Things To Consider Before Installing A Pool
What do you need to consider when deciding to install a pool?
Building or installing a new swimming pool is a multi-staged undertaking. From the moment you decide to invest in the health and happiness a backyard swimming pool delivers, it helps to understand the various project phases and the time each will take to complete.
Swimming is an undeniable part of our culture, with many of us teaching our kids to swim before they can even talk.
We cheer on our Olympic swimming heroes, plan holidays to the world's best beach spots and fill long summer days with water activities designed purely to beat the heat. Given the chance, most of us relax in, on and around water, so it's no surprise that owning a backyard pool is part of the great backyard dream for many of us.
Deciding to install or build a pool is a significant undertaking, with lots of variables to consider along the way. Autumn is a great time to kick off a pool building project, ensuring everything is ready for when the warm weather returns. Building or installing a pool is not quite as simple as digging a hole in the backyard and filling it with water, so it's helpful to understand how long it will take to bring your swimming pool dreams to life before you begin.
Some considerations before you begin
A bit of groundwork is required before you schedule an initial consultation with a builder. Do you have house plans and do they show the elevation of your block? How much of the yard are you wanting to utilise? Do you have sewer or stormwater drains running under your property? What is the plan for the rest of the landscaping? Do you have enough access for a machine – minimum of 2 metres is required. Do you need neighbour's consent?
The material construction of your pool will largely determine the entire project timeline. You can expect a concrete swimming pool project to take around four months to complete. Fibreglass pool builds are typically slightly shorter, taking around three months to come to fruition. Prefabricated plunge pools can be installed ready for swimming within days of council approval being provided. Composite or vinyl-lined pools are usually installed in just under three months and above-ground pools will take as little as nine weeks.
Once you've decided to take the plunge, your first interaction with the pool and spa industry is seeking an initial consultation. this process will probably take a couple of weeks and may involve a pool supplier, builder or contractor, designer, architect and/or engineer. You can expect the following things to take place:
An initial visit to your home, at which the contractor or builder will conduct a site inspection and discuss your requirements in detail.

Design consultation, which may include engaging an architect, engineer or other design professional. This will depend on the nature of your site including access considerations or any engineering complexities that will influence the overall design and construction.

Provision of a written quotation, along with particulars on contract terms, applicable warranties etc.

Contract finalisation and signing. The contract will incorporate the physical design details of your pool: shape, size, water depth, the interior finish, the type of filtration and access. It will also outline the progress payments schedule — you will be expected to pay instalments throughout the construction and installation process. The contract should detail when payments will become due, what those payments specifically cover and what will happen in the event of unforeseen circumstances or delays. It should additionally outline warranty terms on both the pool and associated equipment like filtration systems.

The initial consultation period should also include explanation of the types of insurances required including Building indemnity and/or contract works cover.
Approval is usually the lengthiest stage of a pool build or installation, taking anywhere from just a few weeks right up to eight weeks, depending on the approval process in the state or territory.
Things may move a little slower than you would like at this stage, but getting an approval is required to ensure your pool is built to plan. You should check with your local council if you are unsure about what is involved in getting an approval. This is to ensure that your pool meets all of the applicable legal requirements including local structural and safety obligations, along with any state mandated conditions.
You may need to check with your water provider regarding any water restrictions that may be in place before filling your pool. You will also need permission from the local water authority prior to filling your pool or spa with mains water. There are a number of variables depending on your location — especially at times when water restrictions are in place — but the issued permit will clearly outline conditions that must be met in order for you to comply with local requirements.
Installation or construction is the largest variable in a new pool project. A prefabricated plunge or above ground pool can take as little as two or three days, but you'll be looking at close to eight weeks for a concrete construction. Fibreglass and composite/vinyl-lined pools will generally take around three to four weeks to finish.
Processes include:
excavation and earthworks

construction (in the case of concrete or composite/vinyl-lined pools) or shell installation (in the case of fibreglass pools)

tiling

laying the coping

safety barrier installation and

filling the pool and balancing the water.
Depending on your location, there may be a requirement for staged inspections by council or a private certifier at certain points in the installation or construction process, so ask your contractor to explain this process in more detail.
Not long now till you can take that first anticipated swim in crystal clear water. Handover should include provision of a checklist and a comprehensive run-down on how to maintain and protect your new investment.
Elements of a handover include:
provision of a certificate of completion or similar

explanation of statutory and manufacturer warranties

provision of equipment and accessories information, including instruction or operations manuals

explanation of pool safety instructions

start-up and running procedure instruction

Maintenance schedule steps and recommendations

referral to a qualified SPASA service technician for ongoing maintenance and advice
Once handover is complete, the pool is officially yours and you can start swimming!
It's important to note that we've provided this information as a general guide on average installation and construction time frames. As every pool is different, your unique project may take more or less time. The average times provided do not take into account any extraordinary circumstances or events, like access difficulties or material choices that may delay construction.
These times also exclude additional after-the-fact processes like paving or landscaping. Your contractor can provide a more detailed and accurate plan based on your specific circumstances.
We answer some of the big pool questions
A pool is a big investment, so you shouldn't rush any decisions. Before you kick off the project, there are a number of key considerations across a few areas.
Only work with the best
Without a doubt, choosing a builder is the single most important decision you will make, because it has the potential to make or break your project. If possible, speak with friends or family who have been through the process. Not only can they provide a referral, they'll also be a great source of information on the practicalities and issues common to construction projects.
Before engaging a builder, make sure they have the required licensing and insurances. All SPASA members have a proven track record in successful ethical trading and maintain the requisite knowledge and expertise to bring your project to life. Bound by a strict association code of ethics, our members are committed to delivering all goods and services to an established industry standard and with the highest levels of professionalism. Our pool builder members are the only builders with access to SPASA Contract documents — developed to comply with relevant state and federal legislation, ensuring you are receiving the utmost levels of consumer protection.
Think about your Lifestyle
The way you intend to use your pool has design and construction ramifications. Whether for relaxation, entertaining friends and family or for rehabilitation, exercise and therapy purposes, proposed usage will help determine size, depth, additional equipment requirements, landscaping, heating and water treatment suitability.
Material choices
Construction type is a big decision, with the main options being concrete, fibreglass or composite/vinyl-lined (both above-ground and in-ground varieties). That initial choice will also determine other design options like interior finish, tiling, coping, paving or decking.
Construction requirements will vary for each, as will completion time frames. Your budget will assist in narrowing down the options, so it's a good idea to have a general number in mind before the process begins. There's no point in falling for a top-of-the-range pool with all the bells and whistles if it is well out of your price range.
Handle with care
There is no such thing as a maintenance-free pool or spa, but there are a huge number of available products designed to simplify upkeep and maintenance. Robotic cleaners and automatic chemical dosing systems can relieve some of the burden, freeing up your time. Think about how much (or little) available time and desire you have for regular maintenance activities and plan your designs with that in mind.
Be on the Safe Side
Pool safety barriers are required by legislation, so you'll need to ensure that your local requirements are met. That doesn't mean your pool or spa has to look like Fort Knox, as there are many options available today that seamlessly blend with the landscape while still providing a safe space for children and adults alike.
Building or installing a swimming pool or spa is an inherently long-term decision, and you'll be living with today's choices for many years. Technology advances are delivering improvements across a range of areas, creating and fostering trends in swimming pool design and construction.
Sustainability
As climate concerns continue to build, sustainability has become a fundamental issue in swimming pool and spa construction and ownership. New products and equipment are continually developed that enable smarter use of energy, water and time.
Blurring the lines
Closer, more focused incorporation of interior and exterior living spaces is creating a luxury feel while delivering additional value. Seeing the pool and surrounding areas as a natural extension of the home delivers an atmosphere purpose- built for enjoyment that is perfect for entertaining family and friends.
Small pools
Shrinking land package sizes has seen huge uptake in plunge pools, lap pools and spas.
Infinite colour choices
Traditional blue is giving way to edgier, more dramatic design colour choices like white, grey, black, jade green or even red. Creating a visual link between the inside and outside is bringing bolder options to the pool space and surrounds.
We might be a little biased, but we think winning an award is a pretty good indicator. The annual SPASA Awards of Excellence are the pool and spa industry's most prestigious accolades, attracting entries from across Australia and New Zealand, showcasing the highest achievements in design, construction, supply and after-sales care. The full list of winners can be viewed on SPASA's awards website.
Post installation works
Any future additional building or other works undertaken near the installed swimming pool may have unintended consequences, such as:
ground movement and land stability

undue impact or influence to the structural integrity of the installed swimming pool

damage to the swimming pools recirculation system

damage to connected swimming pool equipment
It is worth considering the impact of the following on your newly installed swimming pool and spa:
any electrical and equipotential bonding requirements

drainage and the impact retained water may have in the pool and spa area

landscaping, retaining walls and other earth works
To prevent any damage post installation, additional building or other work should only be undertaken after seeking professional advice. Contact should be made with your SPASA pool builder and spa technician if you are unsure.