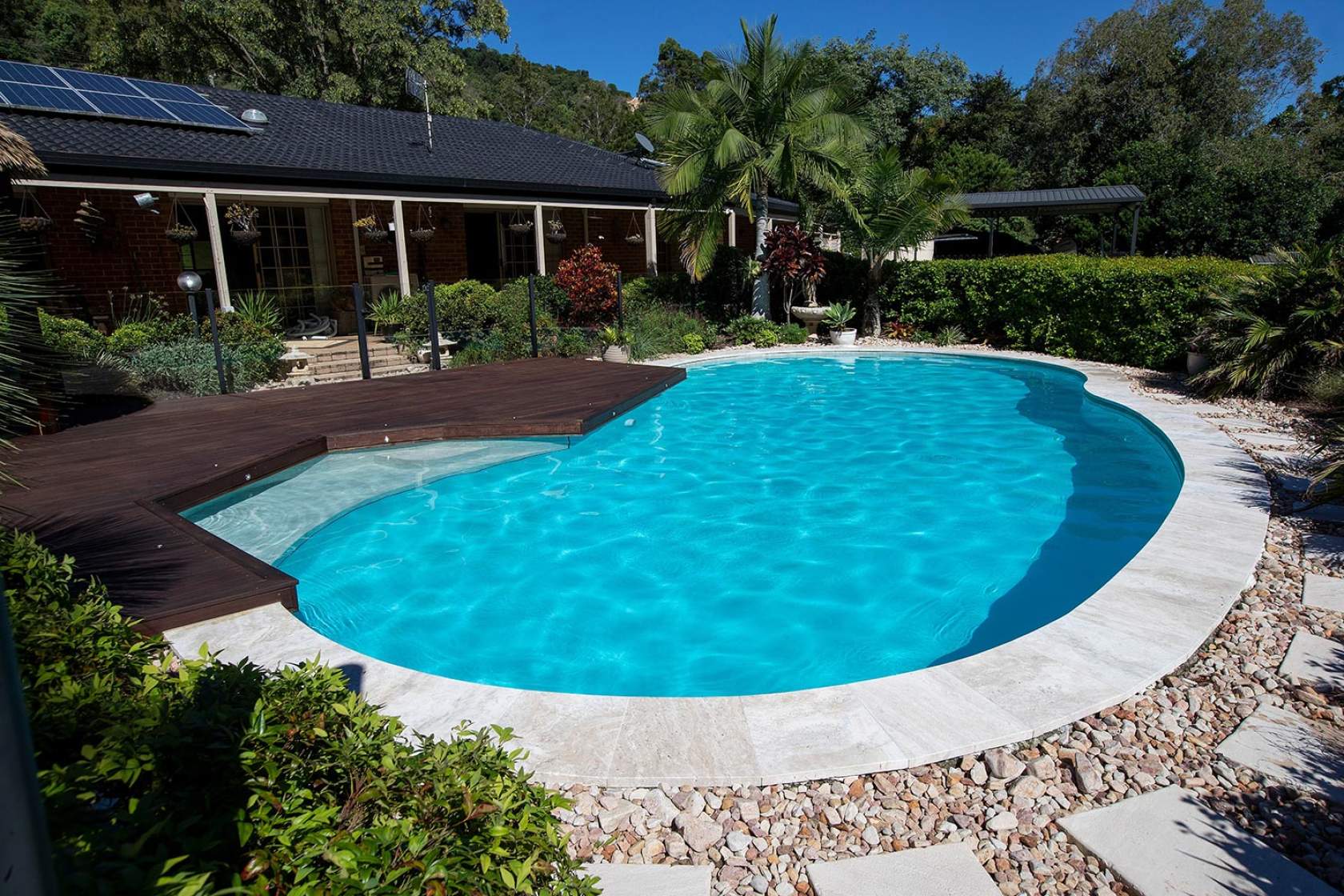 Vinyl lined pools
Vinyl is a great option for any pool interior. It is usually associated with above ground pools. It is also available in a much thicker premium finish for in-ground pools. Read on to find out some of the many features and benefits that vinyl pools can offer you. Discover how easy it is to install and maintain, and why it has remained a popular pool material for over 40 years.
Vinyl Pool Materials and Maintenance
Vinyl is smooth to touch, strong and very flexible. It has the ability to stretch up to 300% of its original size! It is easy to take care of and due to its composition, it is less susceptible to algae. The colour options are endless, with many different prints and patterns available. Vinyl pools are a great choice for anyone with a strong aesthetic sense of how their pool should look.
In most cases, a .75 mm vinyl interior has an average life span of 12–20 years. This will depend on water balance, care and quality of the material used.  Some vinyl manufacturers have even seen vinyl interiors last over 40 years. Vinyl liners are the interior of choice for above ground modular pools. This vinyl tends to come in a .3 or .5 mm finish to offer a better value proposition. This thickness won't get you the 12–20 year life expectancy of an inground premium liner. Still, it is not uncommon to get 8–10 years (or more!) life expectancy from these liners.
Vinyl Pool Installation
Vinyl dominated the new pool construction market for many years. This was due to its compatibility with brick wall pools. Prefabricated panel pools are still very common today. You'll find them most often in Southern and Western Australia.
Vinyl pools have a vacuum pipe. This helps during the installation process and also with any groundwater. Water pressure holds the vinyl to the wall of the pool and above the water line vinyl will feel soft.
Vinyl is a tailor-made product, where the raw material comes off the roll. Think of it as fabric for clothing. Because of this, vinyl has seams where the material gets welded. This isn't an issue. Where a tile pool has grout lines a vinyl pool interior will have seams. It's nothing to worry about.
For pool renovations, vinyl is one of the only insurable pool interiors. This is because it becomes a waterproof membrane over a cracked or broken pool shell. You can fit vinyl to existing fibreglass, concrete, brick or panel pools. Fibreglass renovation with vinyl is the simplest. This is because the vinyl manufacturer has the liner size ready to go! Thanks to this, professionals can do onsite installations in as little as 8 hours. 
Where To Find Out More About Vinyl Pools
Vinyl is a great choice for a pool interior. It offers you plenty of options. You may choose a modular prefabricated above ground pool. You might be renovating or installing an inground pool. Either way, you can find out more from a professional. Consult the Swimming Pool and Spa Association of Australia and New Zealand.  Contact details for your local member are on our 'Find a provider' tab.