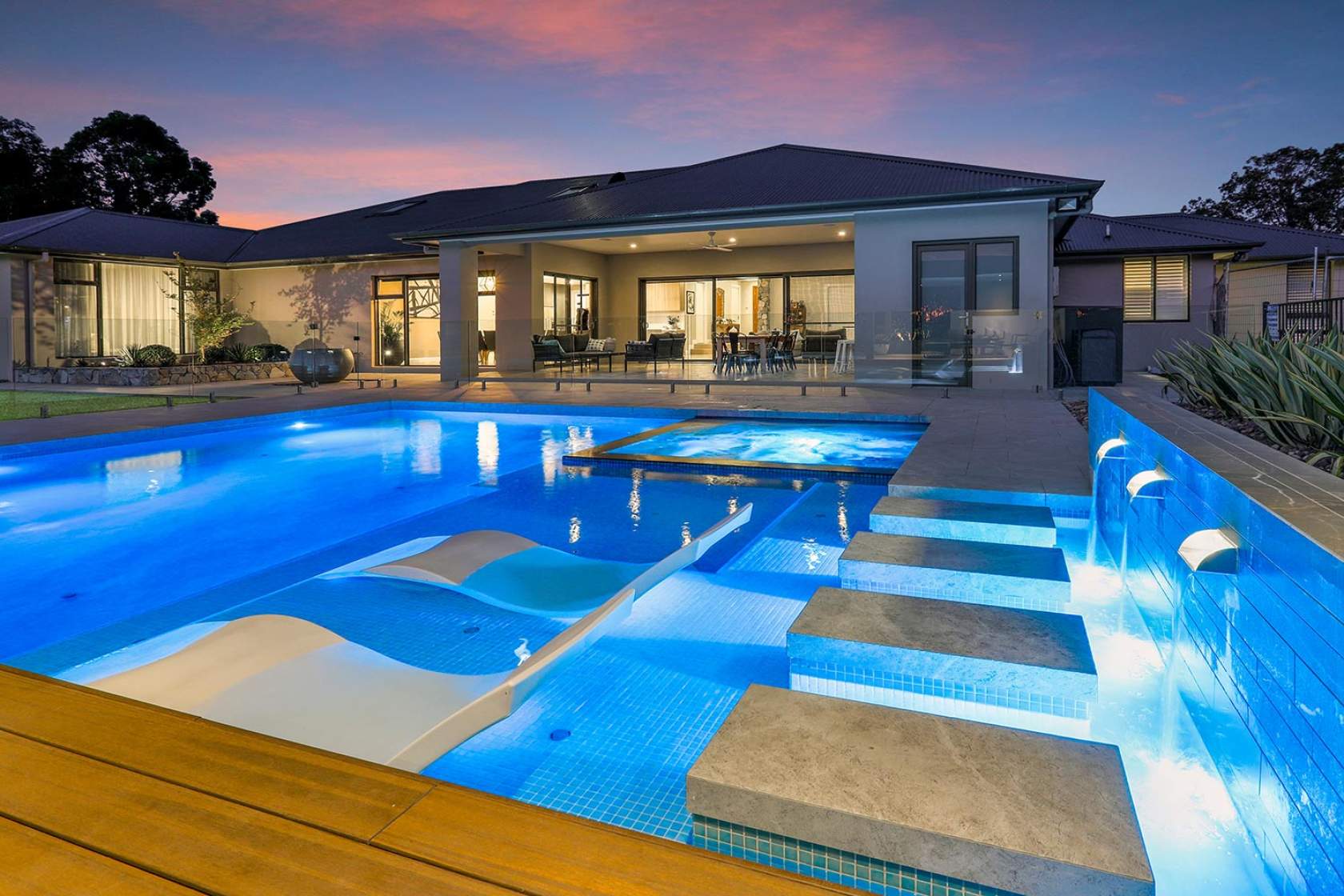 Pool Lighting - Aesthetics & Benefits
An often-overlooked element, lighting plays an important part in any poolscaping project, providing both aesthetic and functional benefits.
Poolscaping can have a dramatic effect on the ambience of a pool area. Just as planting and furniture can bring a design to life and provide valuable additional outdoor living space, so too lighting plays a key role.
Well-placed lighting can clearly define and improve the overall feel of an outdoor space, so it's worthwhile considering a lighting design at the planning stage and involving a specialist lighting designer if it's appropriate. Here are a few pointers to get you thinking about how best to light your space.
Fit for the task
First and foremost, you'll need to identify what the space will be used for. If you're looking at lighting for gazebos, patios and other outdoor rooms, you obviously need to consider the practical demands of the area such as food preparation, dining, reading or watching television.
If you'll use the space primarily for entertaining and dining, then relatively low light levels will suffice, so there's no need to light up the space like a Christmas warehouse sale. In this instance, it's all about the ambience and creating an environment that allows you and your guests to relax.
If you need task lighting — such as for food preparation, reading, or entry and exit from an indoor space — then you'll need higher light levels but these light sources can generally be limited to the immediate work area.
Getting into the garden
A landscape designer is a great source of knowledge when it comes to highlighting objects and feature trees or other planted items. The key to attractive garden lighting is the colour temperature of the light sources.
Colour temperature is measured on a Kelvin (k) scale — the higher the number, the cooler the tone. Cooler colour temperatures emit a stark, bluish light, which is best avoided.
A warmer colour temperature creates a more inviting atmosphere. Therefore, you should opt for lamps that are below 3000k.
Mood lighting suffered a setback with the ban on incandescent light globes, which emit the perfect colour. But don't despair — advances in technology mean that there are flattering options available with halogen, fluorescent and LED lights. LEDs in particular offer longevity and low energy requirements, making them a sensible choice for outdoor lighting — although they do have a higher initial cost.
Perfect placement
Watch your step! While you don't need bright lighting for pathways, steps, driveways and other points of passage, having poorly placed lights can create glare, making it difficult or dangerous to navigate these spaces.
If your aim is to highlight features or create ambience, ensure that light fittings are focused away from the viewer's eyes, or use reflectors and shielding to help guide the light. Generally speaking, keep garden lighting low to the ground. If the aim is to create a wash of light, position the fitting far enough away from the feature to bathe it in light, rather than directing a beam straight at it.
Poetry in motion
Motion detectors are a great way of saving energy while lighting up spaces as required. If your house has a lighting control system, it's not too tricky to integrate garden lighting into the existing network.
Harness the elements
Solar lighting takes out the guesswork and minimises the need for other forms of control; but once again, placement is key. If your aim is to highlight trees or foliage, you'll need to make sure that the solar panel is exposed to enough natural light during the day to perform adequately once the sun goes down. If the purpose is to provide pathway lighting, access to direct sunlight is even more important.
Fortunately, Australia enjoys its fair share of sunlight, with most major cities on the mainland (sorry Tasmania) averaging in excess of 240 sunny days per year. This makes solar lighting particularly suitable for Australian gardens.
Protecting your investment
A well-designed lighting installation adds value to your home, so it should be protected to ensure a long lifespan. Anything that is open to the elements will naturally degrade over time, so consider the location of the project and the likelihood of exposure to the elements.
The salt air in seaside locations in particular can be very harsh, so you'll need to factor in extra protection for fittings in these settings.
Think ahead
It's easy to think of the pool and backyard as being separate from the house, but the current trend is to create a seamless transition between indoor and outdoor spaces, making the pool and surrounding area an extension of the living space. Lighting shouldn't be an afterthought, so begin discussions early and, if you can, make your decisions when it is still relatively simple to incorporate any foundational requirements, such as wiring. The addition of a well-designed lighting scheme not only takes the garden to a whole new level, but importantly showcases the pool and other exterior architectural elements. Beyond the aesthetic, lighting extends the usability of a space by making the area safe, as well as inviting, even after the sun has gone down.