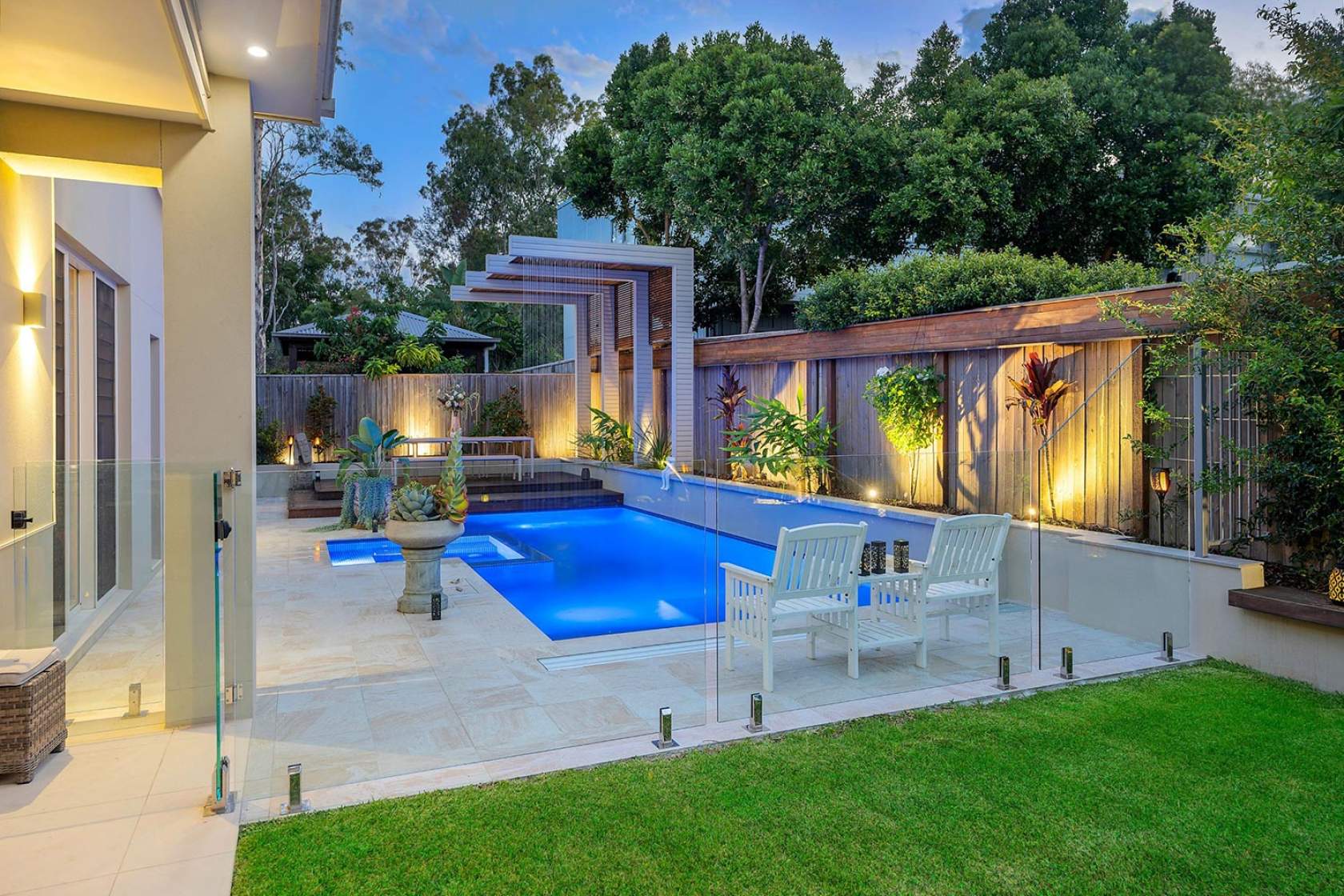 Pool Automation Systems
Manage your pool & spa from wherever you are
From conception through design and manufacture, to final finishing and project completion, digital tools help to make the task of buying a pool or spa as pain-free as possible. Even the way we enjoy our pool has changed.
As in every facet of our lives, there is an increasing number of smart products and automated systems designed to complement our existing lifestyle and to provide simple operation and maintenance of a healthy swimming environment for our families.
What is pool automation?
As a simplified term, 'pool automation' describes an operation or task performed by pool equipment, either automatically or by remote activation, with little or no user input. It is generally used to describe operation of pool equipment via means of a remote or smart device.
You can think of a pool automation system as the brain box that provides intelligent control and gives you, the pool owner, as much input into that control as you would like. At its core, it is designed for our time-poor lifestyles and provides peace of mind that everything is taken care of with minimal effort, allowing you to relax and enjoy your investment.
What does pool automation do?
Manufacturers have designed and evolved their products to reflect the way users expect these systems to operate. Many have adopted a 'good, better, best' design principle or – to put it another way – follow the 'entry level, mid-tier and top-of-the-range' functionality structure. This means you can opt for a system that provides a level of automation that corresponds directly to the amount of control or user input you desire.
Basic automation functionality includes on/off operation of things like pool lighting, water features or a spa blower.
In the middle tier, you will find functions like turning a valve to isolate the spa system when heating, setting a 'favourite' feature with multiple pumps or turning on your spa heater from work using a mobile phone, ensuring the water is warm by the time you get home. You can also monitor current pool conditions, like accessing a chemistry reading from a mobile app.
At the top end you will find more complex capability – feeding pool chemistry readings into a database for remote monitoring and control by your pool professional or having command of your entire outdoor environment via voice activation.
Decisions, decisions
Navigating through available options to determine what you need can be a daunting task, but it needn't be.
Firstly, you'll need to determine how much involvement versus how much automation will suit your lifestyle. Think of the aspects of your pool and surrounding environment that you would like to control and what level of information (such as pool chemistry data) that you can access or change.
If you are considering building a standard pool with two pool lights, but you don't want to walk to the outdoor shed to turn those lights on, you can probably keep things simple with a remote-control solution.
If you want to adjust pool chemistry, see the current water temperature or turn heating on from a remote location, there's an app for that.
If you're looking for something that gives you more complete control and aligns with your home's assistant – like Google or Alexa – then you'll probably be happiest with a full voice-activated system.
Obviously you'll need to do some research to get a base understanding of available technology options, but you should also speak with a pool industry automation professional who can guide you to the best outcome based on your specific needs and lifestyle requirements.
Get automated
Technology is helping pool owners streamline maintenance tasks, simplify complex chemistry and take back more time.
There's no getting around it, owning a pool comes with a bit of responsibility…and a few odd jobs. Thankfully, advances in technology are delivering an increasing number of labour-saving devices designed to take the work out of pool ownership – and save you a dollar or two in the process.
As our homes and workplaces become smarter, so too do our pools, with everything from programmable cleaners and automatic dosers to fully integrated centrally controlled systems set to make life easier. The choice for pool owners has never been broader or more enticing.
Automated pool cover systems give you all the benefits of a pool cover – minimising evaporation of water and chemicals, keeping heat in and debris out – with the added benefit of being motorised. They can be located below or above ground and generally operate via a switch, key mechanism or remote control. They take the manual labour out of covering and uncovering your pool surface.
Automatic retractable covers are generally out of sight when not in use, so you don't have to worry about tripping over a cover that's been hastily removed and tossed aside. Some varieties can also provide an impenetrable barrier to the water, but you need to be aware that in Australia this does not remove the requirement for installation of a compliant fencing solution as dictated in your state or territory.
Sometimes the simplest things really are the best. Today's robotic cleaners are super simple to set up and use and they won't interrupt swimming time. Robotic cleaners operate independently of the pool's pump and filter system, catching leaf litter, debris and other contaminants before they reach the skimmer box, lessening the load and freeing it up to do what it does best. Keeping debris – both fine and course particles – out of the main filtration system means you'll need to backwash less often and will therefore reduce your water consumption. They really are the gift that keeps on giving.
If identifying issues with sanitiser levels and pH balance is a problem, you're not alone. And that's only half the issue – you also need to calculate the correct doses to rectify any imbalances, all of which can be time-consuming, frustrating and can be a bit hit-and-miss if you aren't paying attention. Enter the automated chemical dosing system. 
Automated dosers use sensors to detect current levels and will automatically top up chemicals, reducing the need to intervene. You'll still need to check the levels every now and then, but you can say goodbye to the guesswork and leave the calculator out of it.
Automating the process also saves in chemical use and has the run-on effect of lessening maintenance costs, thanks to a stabilised pH which will ensure your pool and equipment are safe from the potentially nasty effects of imbalance like scaling or corrosion.
If complete control is your thing, you'll want to investigate a total automation solution. You can access and change the various elements of your pool, spa and other outdoor features including lighting, irrigation and water features. Having one central place to monitor and control water chemistry, variable speed pumps, heating systems, underwater lighting and even integrate with your smart home system is the pinnacle of pool automation solutions.
Generally accessed via an app on any smart device, you'll have control over everything no matter where you are located. That means you can start the spa heating up and have it at the perfect temperature when you arrive home from the office. You can set up preset scenes that create the perfect ambience, no matter what the occasion. With a single touch you can set lighting levels, music and water features for a rowdy poolside get-together or a quiet midnight dip – the choice is yours.
Happening by degrees
We're all a lot more familiar with smart devices and labour-saving automation technologies these days, thanks to the emergence of entry-level smart home devices like hubs and intelligent speakers. We've gotten pretty used to chatting with Siri and Alexa on a daily basis and prefacing all of our questions with 'Hey Google'. It doesn't take long for the new to become the norm, which is why getting on board the automation bandwagon is inevitable, especially for pool owners who want to get the most from their investment and spend time enjoying rather than deploying it.
But that doesn't mean you need to go barrelling into a complete automation solution straight up. Many local equipment suppliers have products and solutions on offer that deliver varying degrees of sophistication, and they'll be happy to talk you through it and answer any questions. So, check out what's available and start your automation journey today…we promise you'll never look back.