Pool Maintenance Accessories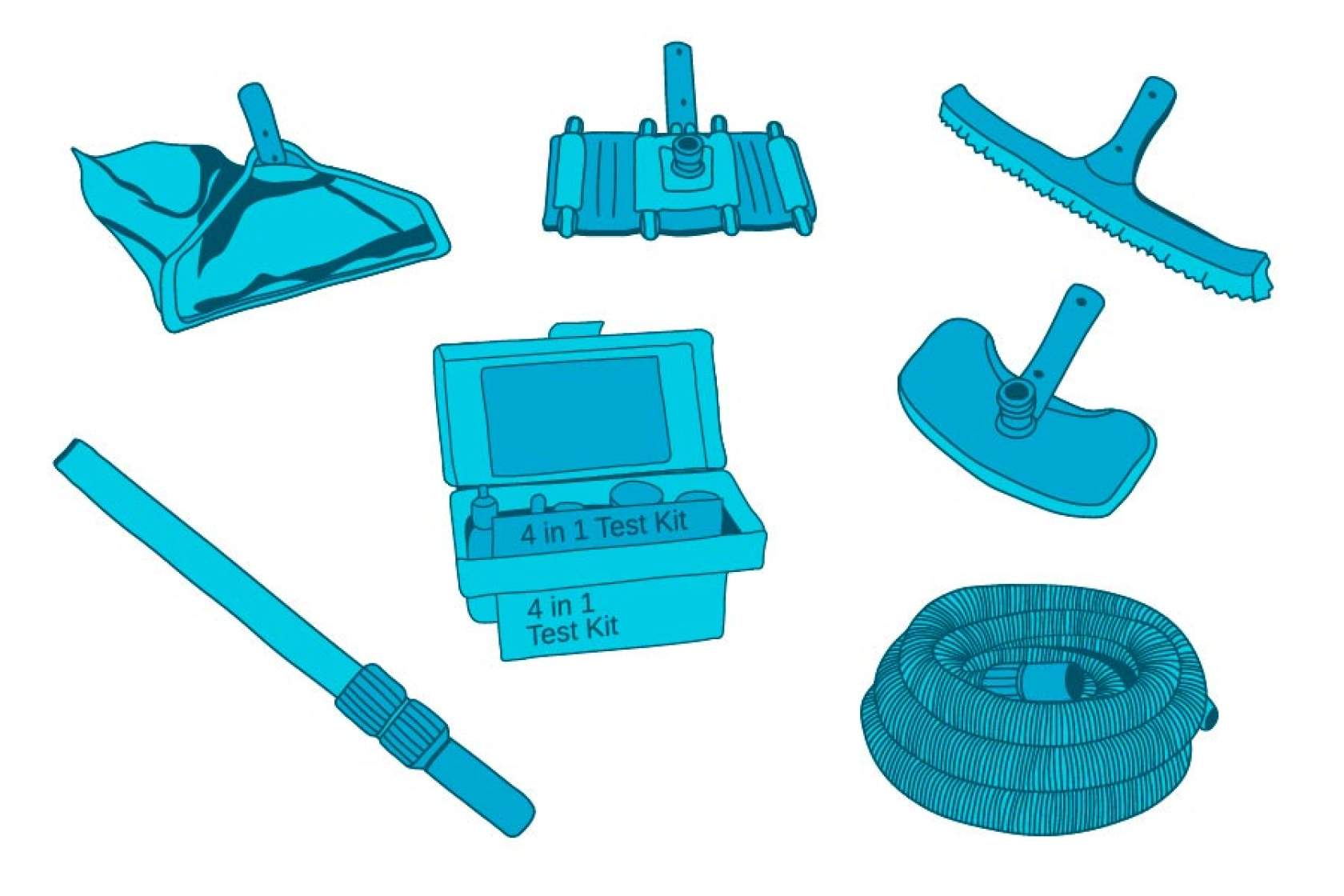 Vacuum head to vacuum the pool when dirty. The vac head can have wheels, for concrete pools or brushes for fiberglass, vinyl and painted pools.                          
Vacuum hose to connect the vacuum head to the vacuum plate. This hose is specially designed for vacuuming. It will not collapse under suction. This hose is not suitable for an automatic pool cleaner as it is normally coiled so that the cleaner moves in circles. 
Leaf scoop to scoop leaves and debris from the surface of the pool. 
Leaf rake or leaf shovel to get leaves from the bottom of the pool. 
Pool broom to brush the walls and floor which will prevent algae growth. 
Telescopic pole to connect the vacuum head onto so that it can reach the deeper parts of the pool. Come in varying sizes from 6 to 16 feet.  
Water testing
Keeping your pool and spa clean has never been easier. There are two basic types of testing methods used by most consumers: liquid kits and test strips.
Liquid kits: Liquid Test Kits require that you put a sample of water into a specific testing plastic container and then carefully add drops of chemical reagents, watching for a change in the colour of the Colour changes caused by the reagents within the water can then be compared to the colour indicators on the plastic container and add chemicals as needed.
Test strips: Test Strip Kits are the easiest method for pool and spa water They are fast and simple to use because they eliminate the need to measure samples and count drops. Typically, you would simply dip a strip in the water for 5-10 seconds and then remove it. You then compare the colours on the strip to the colour chart on the label and add chemicals as needed.