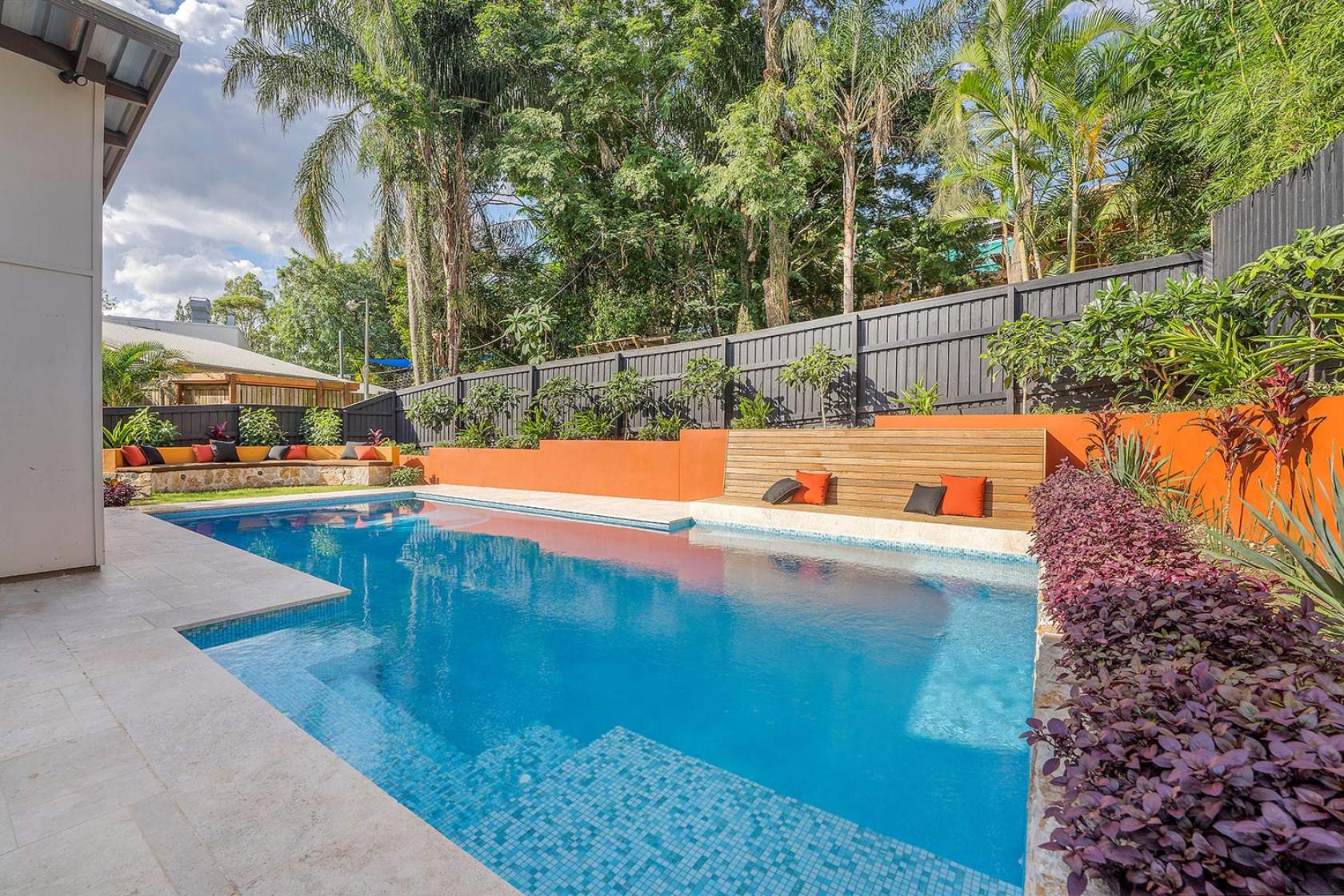 Countdown to your dream pool.
Building or installing a new swimming pool is a multi-staged undertaking. From the moment you decide to invest in the health and happiness a backyard swimming pool delivers, it helps to understand the various project phases and the time each will take to complete.
Swimming is an undeniable part of the Australian culture, with many of us teaching our kids to swim before they can even talk.
We cheer on our Olympic swimming heroes, plan holidays to the world's best beach spots and fill long summer days with water activities designed purely to beat the heat. Given the chance, most of us relax in, on and around water, so it's no surprise that owning a backyard pool is part of the great Australian dream for many of us.
Deciding to install or build a pool is a significant undertaking, with lots of variables to consider along the way. Autumn is a great time to kick off a pool building project, ensuring everything is ready for when the warm weather returns. Building or installing a pool is not quite as simple as digging a hole in the backyard and filling it with water, so it's helpful to understand how long it will take to bring your swimming pool dreams to life before you begin.
First things first — the material construction of your pool will largely determine the entire project timeline. You can expect a concrete swimming pool project to take around four months to complete. Fibreglass pool builds are typically slightly shorter, taking around three months to come to fruition. Prefabricated plunge pools can be installed ready for swimming within days of council approval being provided. Composite or vinyl-lined pools are usually installed in just under three months and above-ground pools will take as little as nine weeks.
Stage one — initial Consultation
Once you've decided to take the plunge, your first interaction with the pool and spa industry is seeking an initial consultation. this process will probably take a couple of weeks and may involve a pool supplier, builder or contractor, designer, architect and/or engineer. You can expect the following things to take place:
An initial visit to your home, at which the contractor or builder will conduct a site inspection and discuss your requirements in detail.

Design consultation, which may include engaging an architect, engineer or other design professional. This will depend on the nature of your site including access considerations or any engineering complexities that will influence the overall design and construction.

Provision of a written quotation, along with particulars on contract terms, applicable warranties etc.

Contract finalisation and signing. The contract will incorporate the physical design details of your pool: shape, size, water depth, the interior finish, the type of filtration and access. It will also outline the progress payments schedule — you will be expected to pay instalments throughout the construction and installation process. The contract should detail when payments will become due, what those payments specifically cover and what will happen in the event of unforeseen circumstances or delays. It should additionally outline warranty terms on both the pool and associated equipment like filtration systems.

The initial consultation period should also include explanation of the types of insurances required including Building indemnity and/or contract works cover.
Stage two — Council approvals
Approval is usually the lengthiest stage of a pool build or installation, taking anywhere from just a few weeks right up to eight weeks, depending on the approval process in the state or territory. Things may move a little slower than you would like at this stage, but getting an approval is required to ensure your pool is built to plan. You should check with your local council if you are unsure about what is involved in getting an approval. This is to ensure that your pool meets all of the applicable legal requirements including local structural and safety obligations, along with any state mandated conditions.
You may need to check with your water provider regarding any water restrictions that may be in place before filling your pool. You will also need permission from the local water authority prior to filling your pool or spa with mains water. There are a number of variables depending on your location — especially at times when water restrictions are in place — but the issued permit will clearly outline conditions that must be met in order for you to comply with local requirements.
Stage three — Installation or Construction
Installation or construction is the largest variable in a new pool project. A prefabricated plunge or above ground pool can take as little as two or three days, but you'll be looking at close to eight weeks for a concrete construction. Fibreglass and composite/vinyl-lined pools will generally take around three to four weeks to finish.
Processes include:
excavation and earthworks

construction (in the case of concrete or composite/vinyl-lined pools) or shell installation (in the case of fibreglass pools)

tiling

laying the coping

safety barrier installation and

filling the pool and balancing the water.
Depending on your location, there may be a requirement for staged inspections by council or a private certifier at certain points in the installation or construction process, so ask your contractor to explain this process in more detail.
Stage four — Handover
Not long now till you can take that first anticipated swim in crystal clear water. Handover should include provision of a checklist and a comprehensive run-down on how to maintain and protect your new investment.
Elements of a handover include:
provision of a certificate of completion or similar

explanation of statutory and manufacturer warranties

provision of equipment and accessories information, including instruction or operations manuals

explanation of pool safety instructions

start-up and running procedure instruction

Maintenance schedule steps and recommendations

referral to a qualified SPASA service technician for ongoing maintenance and advice
Once handover is complete, the pool is officially yours and you can start swimming!
It's important to note that we've provided this information as a general guide on average installation and construction time frames. As every pool is different, your unique project may take more or less time. The average times provided do not take into account any extraordinary circumstances or events, like access difficulties or material choices that may delay construction.
These times also exclude additional after-the-fact processes like paving or landscaping. Your contractor can provide a more detailed and accurate plan based on your specific circumstances.
Visit the SPASA website (www.spasa.com.au) or phone 1300 021 482 to find a SPASA member near you.
Disclaimer: Information provided is for general guidance only and should not take the place of professional advice.