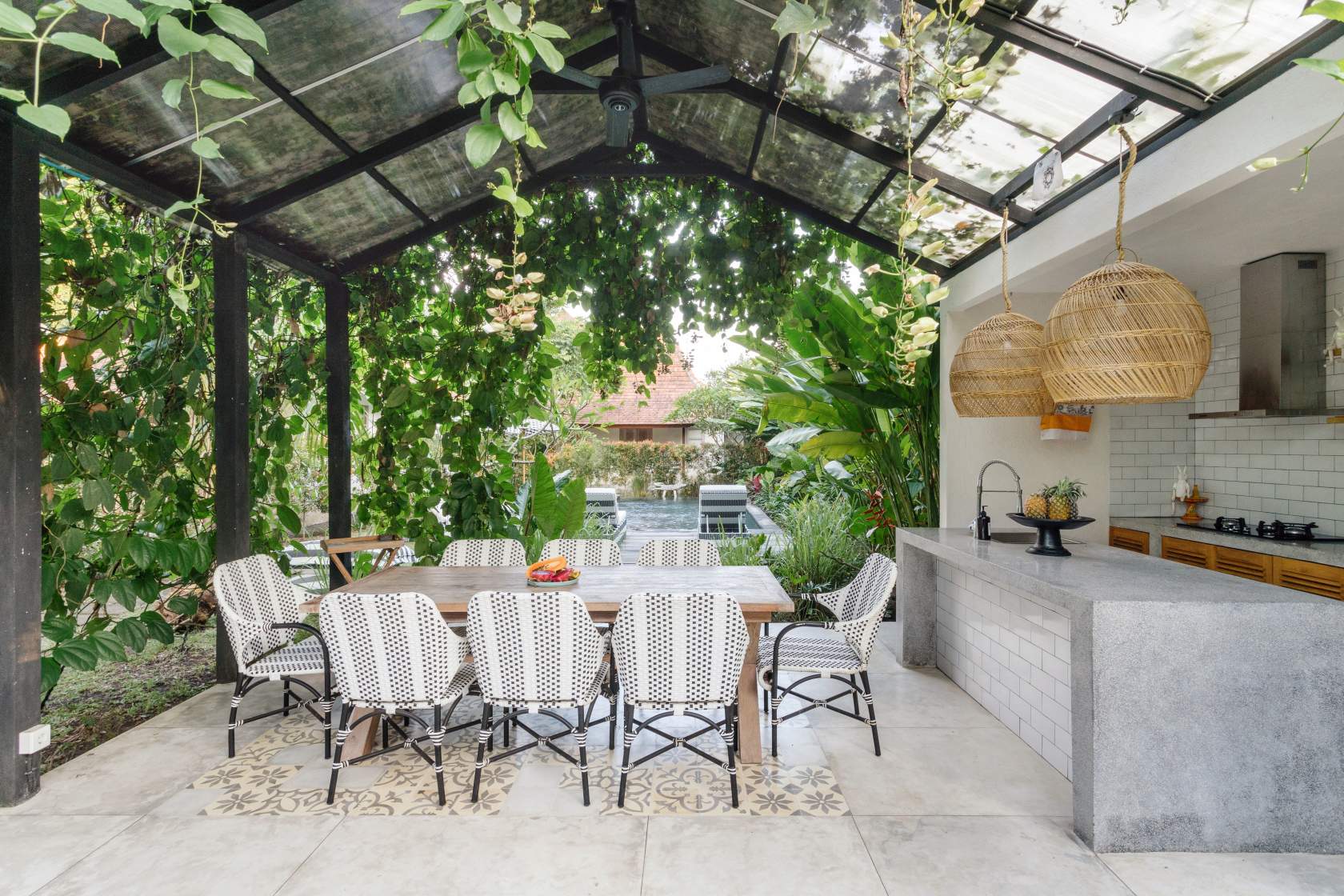 What's cooking?
Outdoor kitchens are having a moment – and winter is the perfect time to draw up designs and install the alfresco cooking area of your dreams.
Your pool probably gets all the attention when it comes to backyard entertaining, but it's hard to ignore the beauty of a well-designed outdoor kitchen and the sheer convenience it offers. Opting for a second cooking space means there's no need to trek back and forth to the house for knives and forks, salt and pepper, extra plates or a cold drink. It not only keeps the crowds – and the mess – out of the house but will also give you more time to enjoy with family and friends.  
If you've been yearning for a barbeque upgrade and don't know where to begin, here's some ideas to get the creative juices flowing.
Hit the right spot
In any building project, location is the first consideration. If you're retrofitting, you'll probably have limited options but it's best to aim as close to your existing kitchen as you can get. That advice may seem counterintuitive – why put both cooking spacing within a stone's throw of each other? It makes sense economically, closer proximity means you can more easily connect to existing services – a less expensive alternative than running additional plumbing, power and gas lines.
You will probably want the area to be under cover, so it's protected from the elements. But you'll also need to factor in ventilation and how close you are to to other living areas – is there a likelihood of nuisance smoke from the barbeque or kitchen impacting other parts of the house?
Who, what and how often?
Think about who will be using the space, for what and how often. Are you planning on only cooking the occasional mid-week family meal, or are you more likely to host regular lunches for twenty with a pig on a spit and all the trimmings? Thinking about casual pizza nights with the neighbours or doubling down to learn the ins-and-outs of Texas BBQ and smoking meats and fish every weekend?  
Outdoor kitchens can run from simple to sophisticated – how you want to use the space will help determine the equipment you need and, ultimately, guide the budget as well.
Land on a layout
Once you have decided how you want to use the space, you can start to formulate designs and the equipment you'll need. Kitchen spaces fall in to one of four key zones: storage, preparation, cooking and serving. Within those zones, there are additional sub-areas and specific equipment placement considerations.
Storage
Storage includes cupboards, cabinets and cold areas – the all-important fridge. Give yourself enough room to store all the essentials; crockery and cutlery, table cloths, napkins, pantry items like salt and pepper, sauces, oils and marinades, as well as cooking and preparation tools, cleaning supplies and other items like a first aid kit.
Preparation
Clear benchtops for food prep are a must. You'll be dealing with meat, seafood and vegetables – chopping, slicing, dicing, marinating meats, assembling kebabs, shelling prawns and slathering pizza dough with sauces and toppings – so you'll want plenty of room to work comfortably.
To keep things clean, you'll need a sink (with hot and cold running water) that's also big enough to take larger items like grills from the barbeque for easy washing. Don't forget space for a bin that won't be in your way or under your feet.
Cooking
Your cooking zone incorporates all the equipment you'll need to feed your family and guests – whether that is a barbeque, smoker, stove top, pizza oven or all of the above. You'll obviously need to know the exact dimensions of all cooking equipment and appliances to plan the design properly.
In addition, the cooking zone needs to be heatproof and well-ventilated and must have access to required services including power, water and gas.  
There are many modular outdoor kitchen options available that incorporate benchtops, storage, cooking, fridge and sink into a single linear design, taking the guesswork out and simplifying the design process.
Serving
Make sure there's enough room for a good-sized table and comfortable chairs in a pleasant setting, so everyone can relax and enjoy their meal, out of the sun (or rain) and away from any barbeque smoke.
The finer details
As with any kitchen, you'll need durable, non-slip flooring. Being outdoors, it will also need to withstand a bit of weather and be suitable for high traffic. Pavers, concrete and bricks are all outstanding exterior options.
Never underestimate the importance of lighting – in an outdoor environment or anywhere else. Poorly lit spaces make hard work of everything, so take the time to plan lighting and consult an electrician for advice on the type of outdoor fittings you should look for and where to place them.
If you really want to get your money's worth, think about installing heating or cooling options that would make the space a viable entertaining area year-round. Including extras like comfy seating and a big screen TV will have you watching the footy grand final with your mates over ice cold beers and home-made pizzas before you know it.
A well-designed outdoor kitchen can be the jewel in the crown of your entertainment area – providing extra living space and easily adding value to your home. It can also be as simple or extravagant as your tastes – and budget – allow. Whether you decide to go DIY or opt for a full custom design and installation, make sure that engage professional licensed tradespeople for all building, electrical and plumbing works.